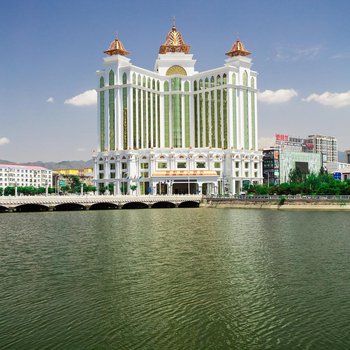 Zhangjiakou Venice Hotel is located at the intersection of Industrial East Street and Binhe Middle Road in Qiaodong District, near Xincun Park.
The hotel covers an area of 32.68 mu, with a total building area of 89700 m2 and a greening rate of 20%; The design adopts the traditional elements of Venice Water City in Italy.
The corridors in the guest floors are spacious and carpeted; The guest rooms are large in space, also covered with carpets, and have independent bathrooms, digital TV, telephones, broadband interfaces, tables, chairs, teapots, etc. The beds are clean and tidy.
The first floor is the reception hall, which is spacious, bright and luxurious. There are all kinds of drinks and tea in the lobby bar for you to enjoy, and comfortable sofas for rest.
The hall is equipped with a high-speed vertical ladder, which is convenient and safe. The receptionist at the front desk is attentive and always smiles in return. The second floor provides breakfast service for the dining hall, as well as convenient places for gathering, holding tea parties and drinking parties.
The private dining room on the third floor can meet the needs of different occasions. The banquet hall on the fourth floor can accommodate hundreds of people at the same time. The private rooms have toilets, televisions, etc.
The rest room of the bath center on the fifth floor includes SPA, gym, billiards hall, chess and card room, etc. The underground of the hotel is a KTV box equipped with international audio-visual facilities. The largest luxury box can accommodate 40-50 people.